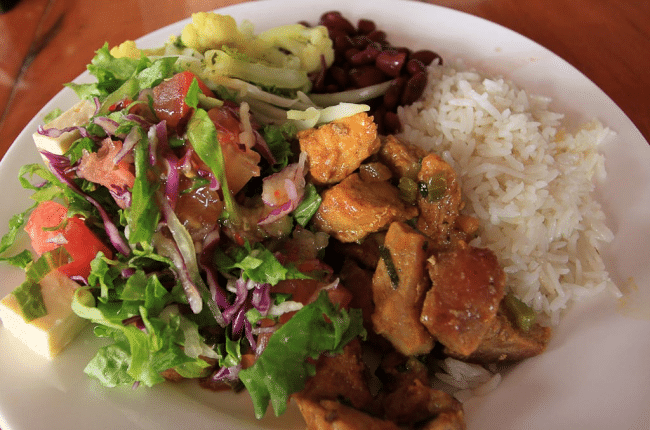 Favorite Local Grub Spots in Jaco
Posted by Lauren Donovan in Food and Beverages, Restaurants
06
Feb
2014
So after being in Costa Rica now for over four months now, I have learned to become the ultimate expert at what I love most in this beautiful world: food.  I've decided to talk about two of my favorite restaurants here in Jaco, ranging from casual organic food to typical Costa Rican casados and I love them equally the same.
There is nothing-I repeat nothing- like the feeling when you walk into the right restaurant after a long day of surfing.  If you follow your gut  (no pun intended) and choose wisely, a restaurant can feel like a giant hug. The Green Room was more than just a hug; it was a sanctuary filled with beautiful artwork and flowing tapestries that truly satisfied my soul.
If you are the type of person who likes to sit down for a while, relax, and enjoy the tranquility all around you – this will be your go-to spot.  The service runs on Pura Vida time so everything is a bit slower, more calm and leisurely – but not in a bad way at all!  The servers and bartenders go out of their way to spark up conversations with every customer who walks through, which made me feel welcome and comfortable.  The music paired perfectly to the Green Room's laidback, mellow atmosphere.  I'm talking Jack Johnson, Ben Harper, Bob Marley here…the kings of good vibes.  I was reluctant to walk into a restaurant barefoot, only wearing my bikini, a sarong, and carrying my flip flops in hand.  But hey, it's Costa Rica, right? Pura Vida! Let's just say I immediately fit right in.
When our hostess sat us down on a couch facing our table with a lovely centerpiece of a bouquet of tropical flowers and a pitcher of water filled with oranges, cucumbers, strawberries and flowers, I realized this is where I would be eating for many days to come in Jaco.
Getting into the food and drinks here would take at least another 2-page blog to describe the deliciousness of every dish I have tried there but to break it down into three words I would say fresh, organic, and unbelievably delectable.  Also, there are always new mouth-watering specials weekly for brunch, lunch and dinner, with each meal of the day having it's own unique menu.  To sum it up, the Green Room is a MUST if you make it down to Jaco.
If I had to come up with a metaphor for my experience at Rustico, it would be like a race: Food quantity vs. stomach capacity.  When I arrived at Rustico, the line was wrapped around to the street…and now I can completely understand why.  Rustico is the most popular Soda in all of Jaco.  If some of you aren't familiar with what a Soda is, I would describe it as an extremely affordable, (cheap) restaurant (usually cafeteria-like), serving typical Costa Rican style food.  The plates served are called casados, consisting of rice, beans, salad, the delicious fresh juice of the day, and your choice of meat.  The best part about the menu is that it is constantly changing day-by-day.
In preparation for your Rustico experience, I suggest putting on loose fitting attire…if not, I wish you luck.  You may just have to unbutton that top button of your jeans for a few minutes while who digest the massive amounts of goodness that you just indulged.  They say that eating a meal slower will fill you up before thinking you need seconds. This is because your metabolism cannot break down food fast enough.  A good tip for a budget traveler who must salvage every single bite of food they have.  This is not the case for Rustico, my friends.  My suggestion to you is to eat as fast as possible.  It is the only way you can possibly finish everything on your plate, and the only way you're going to conquer this amazing Costa Rican casado.
This is may sound extremely intimidating, unpleasant, and rushed, but believe me when I say that eating at Rustico is not just a meal.  It is a wonderful experience and a dive into Costa Rican culture.
I plan to write my next blog on many more of my favorite restaurants in less detail, simply giving all the good tips to know on daily/nightly food and drink specials in Jaco.  I will make sure you know the best places to grub at when you come visit us at Room2Board!  Stay in tuned, and Pura Vida!