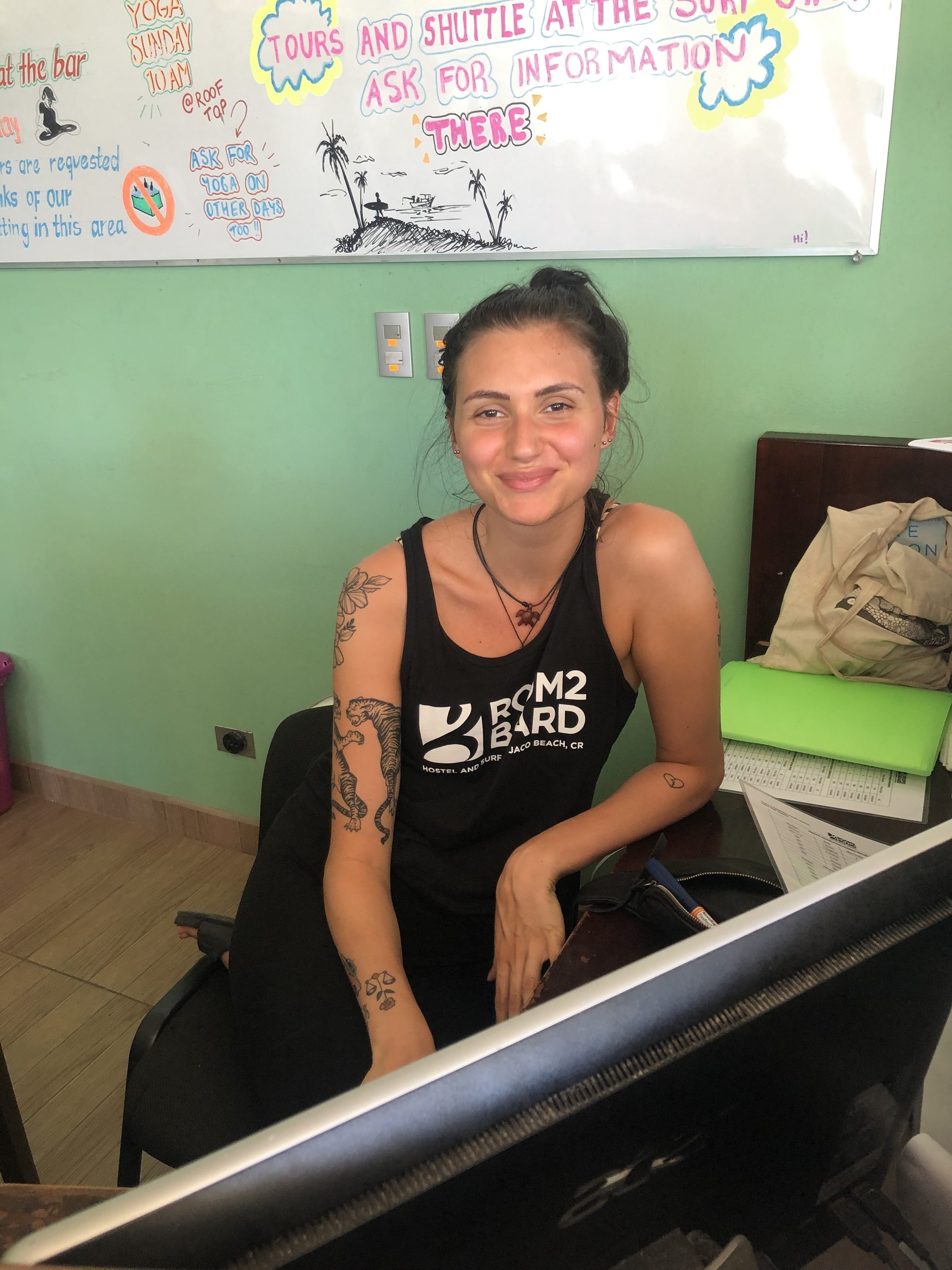 Volunteer in Costa Rica
Posted by Olivia Jakobson in Jaco, Traveling, Volunteering
21
Feb
2020
My first impression of  being a volunteer in Costa Rica at Room2Board.
My name is Olivia and I am one of the volunteers at the hostel Room2Board in Jaco, Costa Rica. In my first blog post I am going to write about my first impressions of being a volunteer in Costa Rica since I figure there are a lot of people out there whom just like myself wants to try something funny and challenging but don't really know what to do. I will introduce you to some practical things that I was wondering myself before I got here.
So, coming from Sweden, Costa Rica is very different from what I'm used to. It is superwarm here and the sun is shining from morning to evening. The sunsets in Jaco are one of a kind and the beach is just right outside the gates of Room2Board. It will literally take you less than 1 minute to walk to the beach for surfing, swimming in the waves or just watching the sunset. Speaking of waves, they are pretty rough here in Jaco. It is the perfect place for surfers but not ideal for a chilling in the water or sunbathing. To do that, you can instead go for a day trip to one of the white beaches nearby such as the Playa Blanca. Otherwise you can always take a swim in the pool right next to the bar at Room2Board.
To work as a volunteer in Costa Rica means that you get a free stay at in of Room2Board's shared dorms together with the other volunteers that all come from various countries around the world. In this moment, we are currently three people from Scandinavia and 3 people from the USA. You also get free breakfast and a discount on food at the restaurant/hostel bar as well as using the bikes and surfboards is free of charge. We work in the reception, checking in and out guests, which is a really great experience especially if you have an interest in working with tourism or service in the future. We also get to practice our Spanish a lot together with the local employees at Room2Board. You don't need to know Spanish before coming here even though it helps a lot to be familiar with basic phrases.  Practicing your Spanish using Duolingo helps a lot.
In the shared kitchen you have space to put your stuff with all the necessities (microwave, oven, water, freezer, fridge etc) and you have the supermarket and ATM just around the corner. Every Sunday morning there is free yoga and a lot of other free activities such as hikes that you can do in your free time. Personally, I am taking online classes in Sweden while I am here, which is something I can recommend if you just like me needs something to do all the time. The Wi-Fi is available all over the hostel, even by the pool and on the roof top which is great.
Overall, this is a super nice experience that I already feel has taught me a lot. You make new friends every day, you learn/practice a new language, you experience a new country and you don't have to spend all your savings because of the great volunteer opportunity. If you feel this is something for you, do not hesitate to contact Room2Board to find out more and become a volunteer in Costa Rica.  Pura Vida!
/Olivia