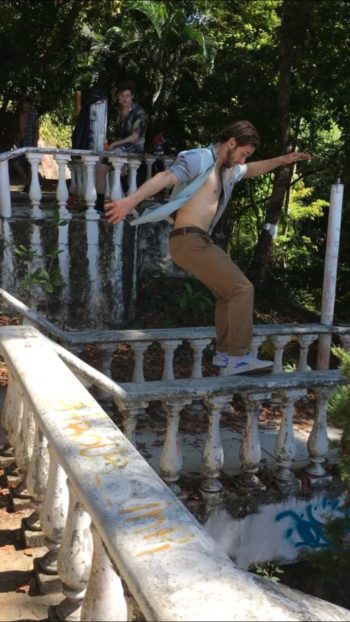 Skateboarding in Jaco, Costa Rica
Posted by Sean Randall in Jaco, skateboarding, Traveling
16
Feb
2020
When I was packing up my things for a three month stint at Room2Board in Jaco, I spent some time debating whether or not to bring my skateboard. On the one hand, I'm obsessed with skateboarding and I've never taken a break longer than one month since I started in 2006 when I was 12 years old. On the other, Jaco isn't known for it's skate scene and I was expecting to be plenty busy surfing, practicing yoga, and working at the hostel. In the end I decided to bring it, just in case. And I'm so very glad I did.
I was excited and surprised to find out that skateboarding in Jaco is really good.  Jaco has not just one, but three skateparks and a few other hidden gems around town. Skatepark Jaco is located at the Centro Civico. This concrete park has a variety of features including transition(quarter-pipes/bowl corners ranging from 3.5-7 feet high), ledges, flat-bars, stairs, bank ramps, and plenty of wide open flatground. There's a core group of dedicated local skaters that will happily include any new-comers in their sessions. One thing that I've always loved about skateboarding is how it allows me to connect with people regardless of any language barriers. Everyone skates in their own unique way and we don't really need verbal communication to dig on  and learn from one another.
The other two parks in Jaco are owned by a professional BMX rider named Kennith Tencio. He charges 2,000 colones(About $4) to skate the concrete bowl in his backyard. You can find it on google maps by searching "Casa Kymar". Although the bowl is DIY hand poured, it's well shaped with perfectly set steel coping. Skateboarding legend Tony Hawk skated the bowl while on vacation with his family in February 2020. Tencio's other facility consists of some big wooden quarterpipes(6-9 ft), a mini mega launch, and a spine. Although these parks were designed for BMX, they're perfectly suitable for skateboarding and unlike anything I've skated before.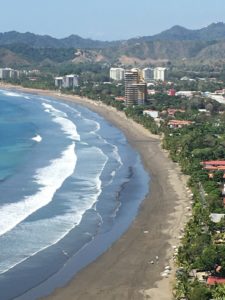 Skateboarding in Jaco on the streets are mostly rough- not ideal for skating around town. But there are a few good spots so it's definitely worth exploring if you're itching for a street session. The parks are fun and the streets have some hidden gems, but my absolute favourite place to skate in Jaco is El Mirador. Skaters beware- this involves a 25 minute hike up a jungle mountain. At the top you will find the ruins of an unfinished restaurant overlooking the coastline of Playa Jaco. There is a perfect three stair, a perfect six stair with a sketchy curved hubba, and an outledge down a two stair (don't forget to bring wax!). El Mirador's best skate feature is it's supreme flatground. Come up with a few pals for game of S.K.A.T.E. at sunset and you're guaranteed one of the most serene sessions of your life. If you're a skater and you're planning a vacation to Jaco, bring your board along! You won't regret it.