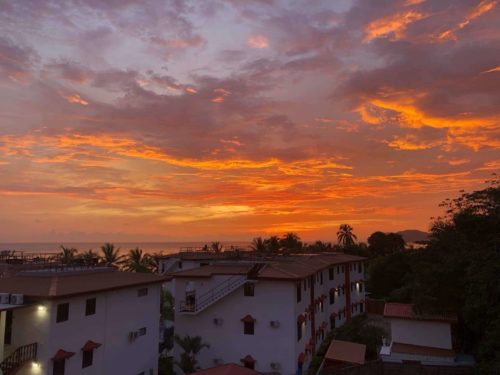 Jaco Sunsets
Posted by Frederique Hemmings in Jaco, Pura Vida, Traveling
09
Mar
2020
Jaco is known for his breathtaking sunsets, everyone knows about it. Jaco sunsets are so spectacular that even the local people, who live here all their lives still take time to watch them as often as possible. That makes me aware of how important it is to take the time to enjoy life to its fulless and also learn to appreciate the present moment. These are in fact, the main features of the country's mind, Pura Vida.
During the time that I spent at Room2Board, I tried to keep in mind the places where I like to see Jaco sunsets. Obviously, the first place that comes to my mind is Room2Board's rooftop. The view from up there is magnificent. You can see the palm trees, the mountains and of course the beach. All this in the comfort of a hammock or chair. It's a great way to share those wonderful Jaco sunsets with  hotel guests or other employees.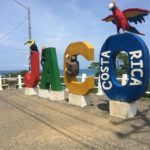 My second favorite spot is at the Jaco road sign on the highway to Hermosa Beach. Basically, all tourists stop there on their journey to take pictures. For my part, I like to go there at the end of the day by bike or simply walking there. There's a spectacular overview of Jaco Beach and the city itself.  Jaco sunsets are beautiful here.
For an even more panoramic view of the festive city, Mount Miro is a beautiful place to enjoy Jaco sunsets as well. In fact, Room2Board offers a free hike every Monday (or on request) to the mountain. It is a short hike less than two miles (three kilometres) and it totally worths it! In addition, Costa Rica's fauna around there is very impressive. It's even prettier during rainy season. Everything is all fully grown and green. On the way there, it is not uncommon to encounter frogs, snakes, toucans, parrots and even monkeys. It is a great activity to do alone when peace is needed or in a group.
Recently, friends of ours that live in Jaco brought us to this little beach, not easily assecible  called Playa Mantas. Playa Mantas is actually a private beach. It belongs to a community of several luxury hotels. This is what makes this place so quiet and peaceful. The ocean current is calmer, therefore it's less crowded than Jaco's beach with its many end-of-day surfers. Even if it is private beach, it's possible to go as a visitor at the cost of 1000 colones per hour. The only downside is that the beach is about thirty minutes drive from the hostel. So it's not necessarily accessible to everyone. But, for those who have the opportunity, I highly recommend this small getaway… It is by far one of the most beautiful view in the region for a Jaco sunset.
For those of you that do not have access to a car, Hermosa is a beach within five minutes drive from the Room2Board. It is possible to get there by bike or by hiking from Miro. However, the road is laborious. Some may not enjoy it. Luckily is possible to catch a bus to go there right on the main street. Every hour you will have the opportunity to jump into on of those buses for the cost of 650 colones. For my part, I like to go there on Saturday's during the weekly surf competition. The gang at the hostel usually gather at the Backyard (a bar in Hermosa) where the event takes place. The sandy beach offers a magnificent view of the ocean. We also enjoy watching the sun go down while admiring the surfers devote themselves to their beloved sport.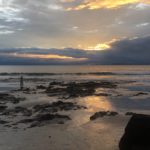 Finally, Jaco sunsets are always breathtaking wherever you go! The beach, being only a few steps away  from Room2Board, guarantees splendid sightseeing opportunity every evening. It's a great way to end a day of surfing or working. How can someone get tired of it? Pura Vida carino!