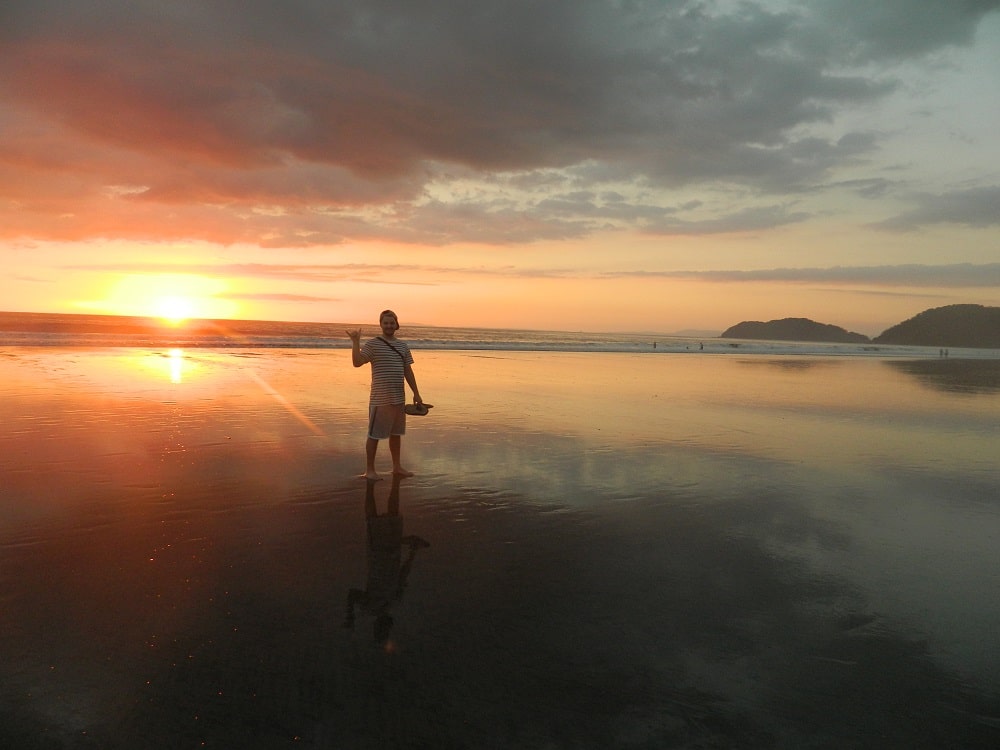 Hiking Jaco with Kevin
Posted by Kevin Baranello in Hiking, Surfing, Tours
03
Feb
2014
My first few days here in Jaco have been nothing short of an amazing time. Endless adventures accompanied with ample time to relax on the beach, in the surf, or by the pool. Nothing to complain about so far. I have only been here for 3 days and have seen all sorts of exotic beauty, and there are A LOT of exotic beauties down here in Jaco, no question…
Anywho, my first real outing consisted of a scenic hike up Miro Mountain with Lauren. We will be working side by side at Room2Board over the upcoming months, so it was a great way to kick off the partnership. No more than a 5 minute walk from the hostel was the trailhead to an amazing hike which had beautiful views of Jaco and the distant Nicoya Peninsula. We encountered macaws and toucans, along with a few other funky insects and reptiles. Everywhere I looked was visually appealing, filled with color and life.
The trail meanderd up, down, and around until we reach Hermosa Beach, a much more laid back surf town with great food and an amazing black sand beach. The sand was so hot that we sprinted down it until we reached the waves crashing at our feet, a cooling satisfaction unlike any other. We hopped in the ocean to cool off and body surfed a few monster waves…well they were only like 3 feet. It wasn't long after that when Lauren and I found ourselves sitting on the couches in this chilled out lunch bar, refreshing ourselves with Coca Colas and a big bowl of fresh raw tuna with rice and avocado. Nothing could have satisfied my soul better than that epic combo, especially after working up such a large appetite.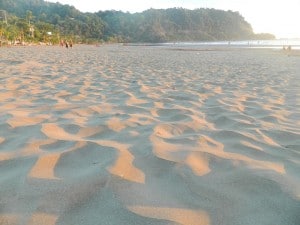 Only half the battle was over though, we still were planning on walking back. Even though a $3 dollar taxi would have sufficed, we decided to keep on truckin'. Winding back over the trail on the way home was just as fun as the way there. We were so wiped after filling our bellies, it took some serious effort to finally get our butts off the couch and motivate ourselves to head home. Honestly though, with a view like the one we had, I could have sat there all day, no problem. We took it much slower on the way back, which was definitely worth it. Stopping to appreciate the biodiversity of the area was quite humbling, even when my impatience kicked in while Lauren took the same photo of a butterfly about a thousand times…major OCD problems, but at least it was an excuse to take a breather. It was late afternoon on the way back, and the flora and fauna was vibrant. We listened and heard a plethora of animal songs and sounds reverberating through the jungle.
Once we arrived back on the beach in Jaco, we caught a perfect sunset to end our day. Waves were crashing with the reflective glisten of low tide under a red horizon. It was a stunning view. Needless to say, Jaco and Room2Board will be the perfect base camp for my Costa Rican adventure.