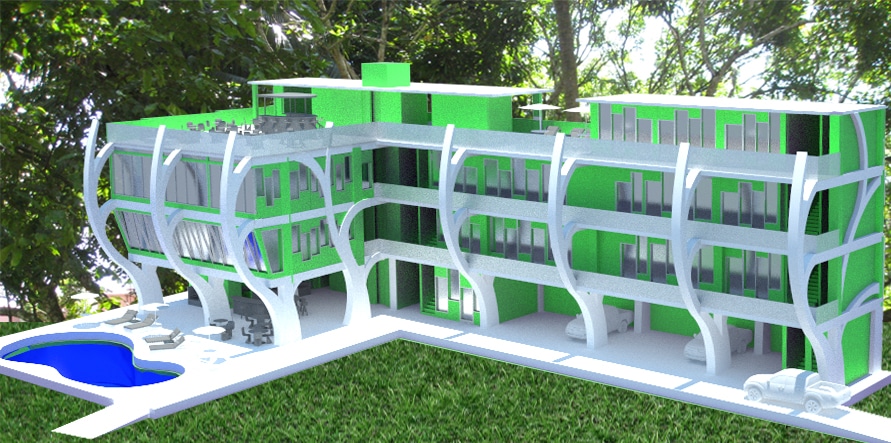 The Building of our Costa Rica Hostel, Room2Board, Part 1
Posted by Susan in Architecture, Pura Vida, Traveling
14
Apr
2014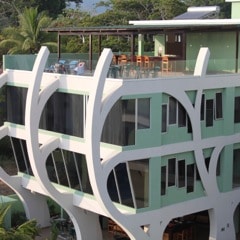 "Form follows function", this quote is from the great architect Mies van der Rohe and was the motto for design in the 20th century.  Room2Board was designed to meet the demands of young international travelers and how they want to engage the world as they explore.  Turns out these aspirations are not just for a low cost place to crash for a week with a great location, but for a place that taps into their desire to interact, learn and share the experience of new adventures with their fellow travelers.  The architecture of R2B follows and exceeds these "functions".
Our architect, Lorenzina Laera (we call her Lory) hails from Italy.  She was given pretty much free-reign to achieve something new and in concert with the Costa Rican pura vida way of living. The result is a nothing short of spectacular.  Guests tell us it is the most beautiful hostel they have ever stayed in, more like staying in a luxury hotel.  They love the giant columns, which represent trees? waves? 0r are the columns the gesture of "pura vida?"  Great architecture – it causes us to pause, imagine and discover for ourselves.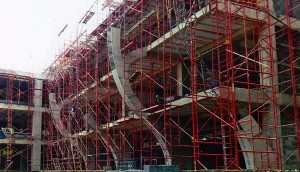 What makes Room2Board so luxurious is the attention to detail.  From the glass railings to the unique tile, textures and pattern add movement and life to the building. The bathrooms are modern and well laid out, the common spaces are numerous and multi-functional, and the bar areas next to the pool and on the roof are the perfect spots to enjoy an afternoon or evening cocktail after a day of surfing.  You can watch a movie while taking a dip in the pool on the big wave screen.   If you need to get out of the sun, the common area on the 2nd floor will also boast a big screen theater and yoga classes.  An on-site surf shop, community kitchen and tour desk complete the picture.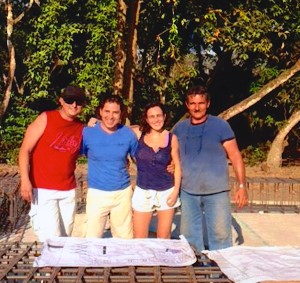 Lory also incorporated eco-friendly design into the project.  After all this is a Costa Rica hostel.  We tap fresh well water from a deep aquifer.  The building utilizes energy saving features such as lighting motion detectors, solar hot water heating, ceiling fans, a sophisticated cross ventilation design and super-efficient air conditioning.
The pictures of Room2Board are great, but they just don't do it justice.  As with any great piece of architecture, it can only appreciated by walking around it.  The scale of the building, the textures and patterns used need to be seen and felt first hand.
If you have been here, you know what I am talking about.  We would love to hear your comments below.  If you haven't, we hope you will join us soon in Jaco, Costa Rica.  The pura vida life is pretty good here at Room2Board. Reserve your room now!
Stay tuned for Part 2 in this series on the design process and read about how a group of Lory's students spent 2 weeks in Jaco last summer working on the finishing touches with her.
About the Architect: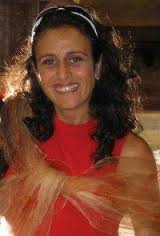 Lorenzina Laera (Lory), originally hails from Italy and now makes her home in NYC. Her work can be found in Rome, Paris, Madrid, Geneva, London, Los Angeles and New York. 

Lory is currently on staff at the New Jersey Institute of Technology (NJIT), where she won the 2011-2012 Excellence in Teaching Award for Instruction by Adjunct Faculty. She teaches Architecture and Interior Design Studios and coordinates workshops around the world.
She has a Laurea in Architettura cum laude, from the University of Rome "La Sapienza" and a Post Professional Masters Degree in Advanced Architectural Design from Columbia University in NY. Her work has been featured in design and architectural publications, including the New York Times and one of Italy's leading national newspapers, La Repubblica. She was part of a team that won an Honorable Mention for the World Trade Center Memorial Competition, which was featured in an article in the New York Times and in the book Imaging Ground Zero.