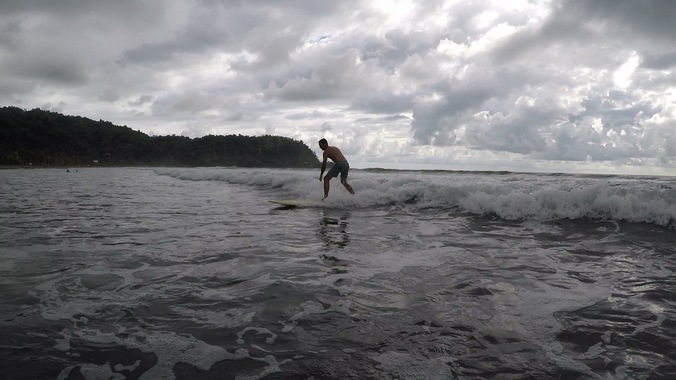 What to do when it Rains in Jaco
Posted by Kallie Stork in Jaco, Tours
27
Sep
2019
Jaco's rainy season stretches from May to November. Although this may seem like a long time, do not let it deter you from visiting this beautiful country. In fact rainy season has many perks! Plus, it rarely rains all day.  There are many hours of sunshine during green season. You will have lots of surfing and tanning time. During rainy season Costa Rica is much less busy, prices are cheaper, the landscape is lush and green, and waterfalls are overflowing. Plus, when it rains in Jaco you will find many activities that are possible and even better when it rains.
My favorite activity to do when it rains in Jaco is to surf. I have lived in Jaco for 3 months and my favorite day of surf was during a rain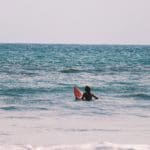 shower. Usually when it rains the winds die down and the waves become clean and smooth. This makes for fun and longer rides. The sensation of raindrops hitting the water all around you and catching a full rainbow in the ocean is something everyone needs to experience at least once in their life! I recommend surfing during a light rainfall but if the rainstorm is too heavy the waves will die down, rivers will fill up and flow into ocean, and the water quality will not be clean. Keep in mind surfing is only safe 3 hours after rivers stop flowing into the ocean.
Another activity to do when it rains in Jaco is yoga. At Room2Board yoga is on every day at 10am. The yoga class takes place on the covered rooftop. You get to enjoy the view to the beach and the sound of the rain. Every Sunday morning at 9am the class is free! After class you can grab a mimosa or take a nap in the roof-top hammocks.
If you are interested in self-defense, Jiu Jitsu, or martial arts take a class from Sydney Machando at Pura Vida Jiu Jitsu in downtown Jaco. The gym is located next to Mandarina. You can buy a monthly pass for $60 or a day pass for $20. They have quite a few classes scheduled so you can even fit in two classes a day.  Brazilian Jiu Jitsu is on Mondays and Wednesdays at 10am and Self-Defense/ Jiu Jitsu Fundamentals is at 7:15pm. The Mixed Martial Arts class takes place Tuesday and Thursdays at 6:15am while the Mixed Martial Arts Combat class is at 10am. This is a great activity to do as it is under a roof but with open air. You will get fit quick and learn some life skills along with a workout!
If you are looking for a more relaxed day inside when it rains in Jaco, there are options for you too! On the north end of Jaco on the other side of the bridge is CCM Cinemas. They are located in the small shopping center behind KFC. Each movie costs 3000 colones or 5 dollars. There are around 5 theaters with Spanish and English options, food and drinks, and air conditioning. Start the walk an hour or so early and take your time walking down the main road, do some shopping, and pick up some souvenirs. There are many touristy shops along here and you will find something for everyone.
Another great way to spend a rainy day is in a café with a good book. Bohio Coffee Roasters is my favorite coffee shop in town. It has a hipster vibe and hosts the best cold brew and donuts in town. The strawberry/blackberry, dulche de leche, or passionfruit donuts are a must-buy. Spend the afternoon enjoying the tunes and good vibes while sipping on coffee roasted in-house!
For a little escape and to treat yourself, catch a taxi to Los Suenos Marriott in Herradura only 10 minutes away. Go for the breakfast buffet from 6:30am-11am for 28$. They have a large selection of Western and local foods, omelet bar, juices, and $5 Mimosas. They also have outdoor covered seating next to the pool and it is relaxing when it rains. After breakfast go to their spa: Sibo Spa to get a massage or body treatment.
There's also lots to do during rainy days at Room2Board.  R2B is stocked with board games, foosball, books, cards and lots of fun people to keep you happy.  There are also covered hammocks on the terrace and a co-work space with an ocean view.
Even in the rain you can find many things to do. Embrace it, go for a run on the beach or a swim, enjoy the drop in temperature, and don't let it stop you from enjoying Costa Rica. Pura Vida!