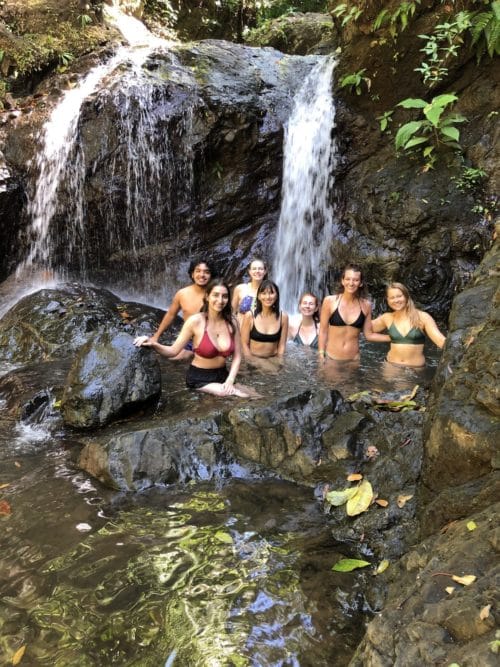 Hidden Waterfalls in Jaco
Posted by Sean Randall in Hiking, Jaco, Pura Vida, Tours, Volunteering
09
Feb
2020
If you're staying at Room2Board Hostel and Surf School, and you are looking for hidden waterfalls in Jaco, this easy hike makes for a perfect morning or afternoon adventure. Gather some friends and split the 15 minute taxi ride across town- our front-desk staff will be happy to help you order the cab and figure out exactly how to find this local spot.
The hike is about 45 minutes each way and there are a few places where you can swim in cool clear spring fed pools. I recommend packing light. Wear your bathing suit, some sneakers that you don't mind getting wet, and carry just a small pack for your water bottle and cell phone (it's a great place for pictures).
Here is a short account of my excursion:
The jungle was mystical. We trekked up rocky ravine with shallow stream running lightly against our stride. The plastic sandals I'd borrowed were less than ideal walking shoes, so I continued on bare feet across the slippery stones. Hazy clouds and lush canopy above made for mottled shadows below and I was struck then by a cloying, lonesome feeling.
The jungle was quiet aside from thin trickling of mountain stream and soft crackling of tropical insects hidden in the undergrowth. I could feel the strength of the mota, this "cripy" of the ticos, taking hold of my vincible mind. With each padding step my perception began to change. What began as a day of camaraderie and relaxation in nature now felt more akin to a trial of instinct and vigilance. We were surely intruders, and the only way to make it through unnoticed was to become a part of the jungle ourselves.
As the riverbed grew steeper we passed by unchanging slabs of granite and overflowing basins of restless water flowing somewhere along the way in its ceaseless pilgrimage. We clambered up age old steps, hand and foot holds made smooth by man and time. And man could we feel time! Time pulsing through the tumultuous deluge that rushed past us out into the void. Time whispering subtly beneath roar and clamor. Time in the stern gaze of ancient sentinels draped in twisting vines. But there was only one way to go and that way was onward in the footsteps of countless lost souls before us and as many forevermore, and onward so we went, shrinking one after another deeper and deeper into the vast green darkness.
This post and drawing below is by Sean Randall, one of Room2Board's volunteers.  If you are interested in learning more about our volunteer program contact us here.  Remember to ask any staff member to help you find the hidden waterfalls in Jaco.