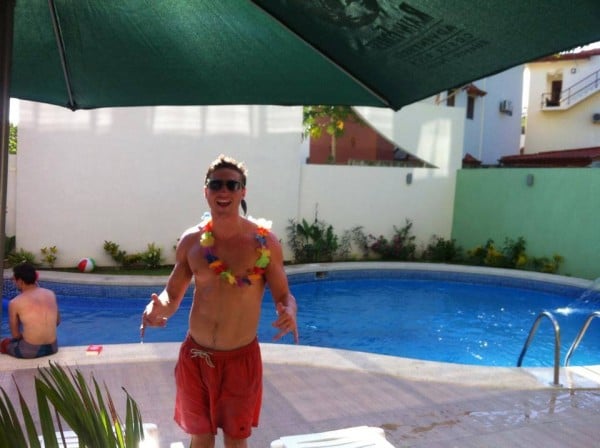 Volunteering at a Hostel – Meet Caleb
Posted by Susan in Traveling
14
May
2015
The first group of volunteers at Room2Board all seemed to be from the University of Vermont.  My son, Bronson, graduated from there in 2012 and all his friends seemed to think Room2Board would be the perfect first "job".  Caleb joined the staff in November and we are hoping he never leaves!  He is our remaining UVM grad at Room2Board.  Here is what Caleb has to say about volunteering at a hostel.
Meet Caleb
Where are you from?
Calais, Vermont
Where did you go to college?
University of Vermont, Studied in the Community Development and Applied Economics program, majoring in Community Entrepreneurship
What made you decide to volunteer at Room2Board?
I wanted to spend time in Costa Rica where I could surf consistently, but did not have the budget to travel around for much longer than a few months. I was looking for a way that I could work in Costa Rica in order to decrease living costs and was fortunate enough to hear about Room2Board from a college friend whose family owns the hostel.
Tell me about a typical day of work at Room2Board?
As I have worked at Room2Board for some time now, I have developed a few different hats. Therefore, my tasks vary daily. In general though, a typical day starts with a great breakfast (typically the R2B Complete) and a strong cup of coffee down at the bar. I chat with the other staff members and guests who are also enjoying their breakfasts, about what is in store for the day or about any shenanigans that occurred during the previous night. Breakfast is followed by greeting incoming guests from countries all around the world and also assisting guests with anything from calling cabs to offering advice about enjoyable activities around the town of Jaco and surrounding areas. If all goes well, work is followed by a surf session right in front of the hostel, on Jaco Beach.
What is the best part of volunteering at R2B?
There are so many things I enjoy about volunteering at R2B, but I would have to say the very best part is the Room2Board family, or as I like to call it, THE SQUAD! It is inevitable that due to the amount of time all the staff spends together, we have become a big family.
Now be truthful – what is the worst part of volunteering at R2B?
There is no part of R2B that I dislike, however, when first coming to the hostel, I was hoping for a more culturally immersive experience; I thought that just by living and working in Costa Rica, I would naturally pick up the Spanish language. I have found though, that it takes much ambition to learn Spanish in this environment. Because the majority of our guests at the hostel are coming from the U.S., Canada, and countries throughout Europe, English is by far the dominant language spoken. The opportunity to learn Spanish is definitely present, you just have to be determined.
What is your favorite bar in Jaco?
Ask anyone who knows me at R2B and they will be able to answer this question for me… I am a huge fan of Jaco Blu. The best night to go there is Wednesday night (ladies night), which tends to get pretty wild. I love that the bar is right on the beach, so you are able to walk straight out to the beach with your drink in hand. I also enjoy letting loose on the dance floor there from time to time.
What is your favorite activity to do during your free time?
My favorite activity to do during my free time here is definitely surfing. I am so fortunate to be living on a beach where I can surf daily.
Favorite guest?
There are so many amazing people that I have been fortunate enough to meet in my time at R2B, but my favorite guest would have to be Sean Hascup, a once guest that turned into a staff member and a great friend. Sean came as a guest in January and loved it so much here that he came back to work  in April and is still here!
Least favorite guest?
Don't name names:  My least favorite guests are those that come to the hostel and forget that they are at a HOSTEL. Yes, R2B is clean, new, and offers many amenities that other hostels do not, but it is still a hostel. It seems that some people come here and are expecting boutique hotel services and amenities and then get irritated when the hostel doesn't meet those expectations.
Funniest experience?
So many funny experiences, but I will keep it PG. A funny time that comes to mind, is a guest, who after spending a week in Costa Rica was still calling the local currency, colones, "cajones"…If you come stay at R2B, just know that cajones are not an accepted form of payment.
Any tours you highly recommend?
While, I have heard great things about many of the tours, I have personally only experienced a select few. Of those few, I would recommend the waterfall repelling and zipling tour. I really enjoyed the variety that this tour offered. It was so cool to be repelling down waterfalls and then ziplining across the tree tops! The tour was also organized extremely well and the guides were great!
What tour is on your bucket list?
I want to go on the full day waterfall jumping tour.  I hear it is amazing – you jump off 70 foot waterfalls into a pool of beautiful water.
Favorite R2B meal?
I am asked this all the time and each time it is very difficult to pick just one. I guess if I had to choose, I would say the grilled chicken filet dinner. I love the mashed potatoes and grilled vegetables that come on the side.
What advice would you give future R2B volunteers?
Stay active! As easy and comfortable as it is to just hang out at the hostel pool, bar, or hammocks, there are so many enjoyable things to do in Jaco and the surrounding towns. Get out and learn to surf in the ocean right in front of the hostel or go for a hike up Miro Mountain right around the corner!