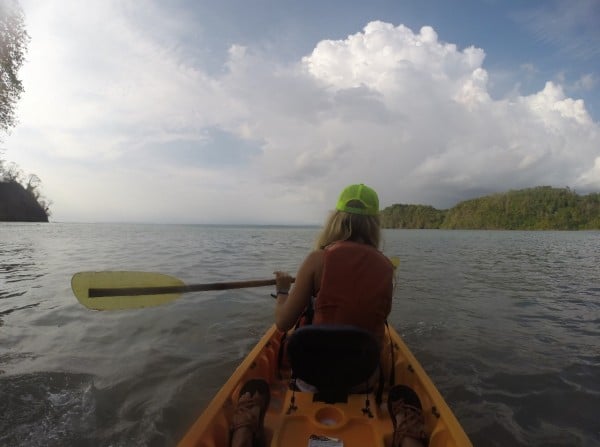 Kayak Tour Jaco Costa Rica
Posted by Susan in Tours
19
Jun
2015
Row, Row, Row Your Boat
Some travelers set out for Costa Rica excited to lounge on the beach, drink cold beer and enjoy the Pura Vida lifestyle. While we at Room2Board are all about the relaxation (and definitely about the cold cervezas), we do try to experience the more adventurous side of the Costa Rica as well! This country has so much to offer, from ziplining through the rainforest, to waterfall rappelling, to ATVing on beautiful beaches… My Costa Rica bucket list just keeps getting longer.
Lucky for us, we have 10+ adventure tour options that we can book right from our surf and tour shop. So, finding ourselves with an afternoon off, my co-worker Marina and I decided to spend it kayaking on the open ocean. Neither of us had ever sea-kayaked before, so we booked a guided tour with Kayak Jaco. Kayak Jaco is celebrating its 15th anniversary this year and boasts stellar reviews on TripAdvisor, so we figured they knew what they were doing!
Best Kayak Tour Jaco Costa Rica
We were not disappointed. From the moment the owner picked us up from R2B (right on time!), it was evident that the whole trip was well-planned and designed to accommodate kayakers of all levels – from first-timers to those who are very experienced.
We arrived at our launch site and after a quick walk to the beach and an even quicker "how to paddle" tutorial, we were in the water! We launched off of Agujas beach where the water was nice and calm, which was definitely a good call by our guide – it gave us the chance to get comfortable with our paddling. As advised by our guide, Marina and I decided to share a double kayak, so it took us a few minutes to perfect our rhythm.
Gliding along the coast, we passed natural caves, tropical cliffs and rainforests full of wildlife. Our guide was quick to point out any animals we might have missed (and was just as quick to stop for breaks when our arms got tired). While I absolutely recommend this tour to those looking to truly experience Costa Rica – I'm also warning you that it is a real workout! With a full morning of surfing already under our belts, we were feeling the shoulder burn in no time.
The only disappointment for me came when we arrived at our destination: Playa Blanca, a beautiful and secluded beach where I was excited to see rolling waves and clear water. Unfortunately, the rolling waves indicated that it was high tide . . . meaning it would be impossible to snorkel. Since Playa Blanca boasts the best snorkeling in this part of the country, I was pretty bummed! However, that just means I will have to go back! Remember what I said about that growing bucket list….
We spent some time swimming and relaxing on the beach, made easy by our guide who whipped out some fresh fruit and bottled water. After resting up, we headed back to Agujas where our ride was waiting to take us back to Room2Board. During the drive home a light rain started up, painting the sky with rainbows and highlighting the lush, green landscape surrounding us. It was almost as if our guide had planned it!
This whole trip was the perfect mix of activity of activity and leisure. While it definitely would have been easier to just take a boat or drive to Playa Blanca, there is something beautiful about the simplicity of kayaking. As Kayak Jaco puts it, "We don't pollute or disrupt the balance of nature; we just paddle through our small slice of it, not leaving a trace." Kayaking gives you the time and tranquility to truly enjoy the nature around you . . .  reminding you that sometimes (especially in beautiful Costa Rica) the journey IS the destination.
*Tip: Our guide told us that kayaking in the morning is generally easier – the water is calmer, making it easier to slice through the waves.
About the Author:
Cathy Strini joined the Room2Board volunteer staff in June.  After graduating from the University of Tennessee Cathy spent a year volunteering with the World Race in Central America.  You can read more about her journey on the World Race here.