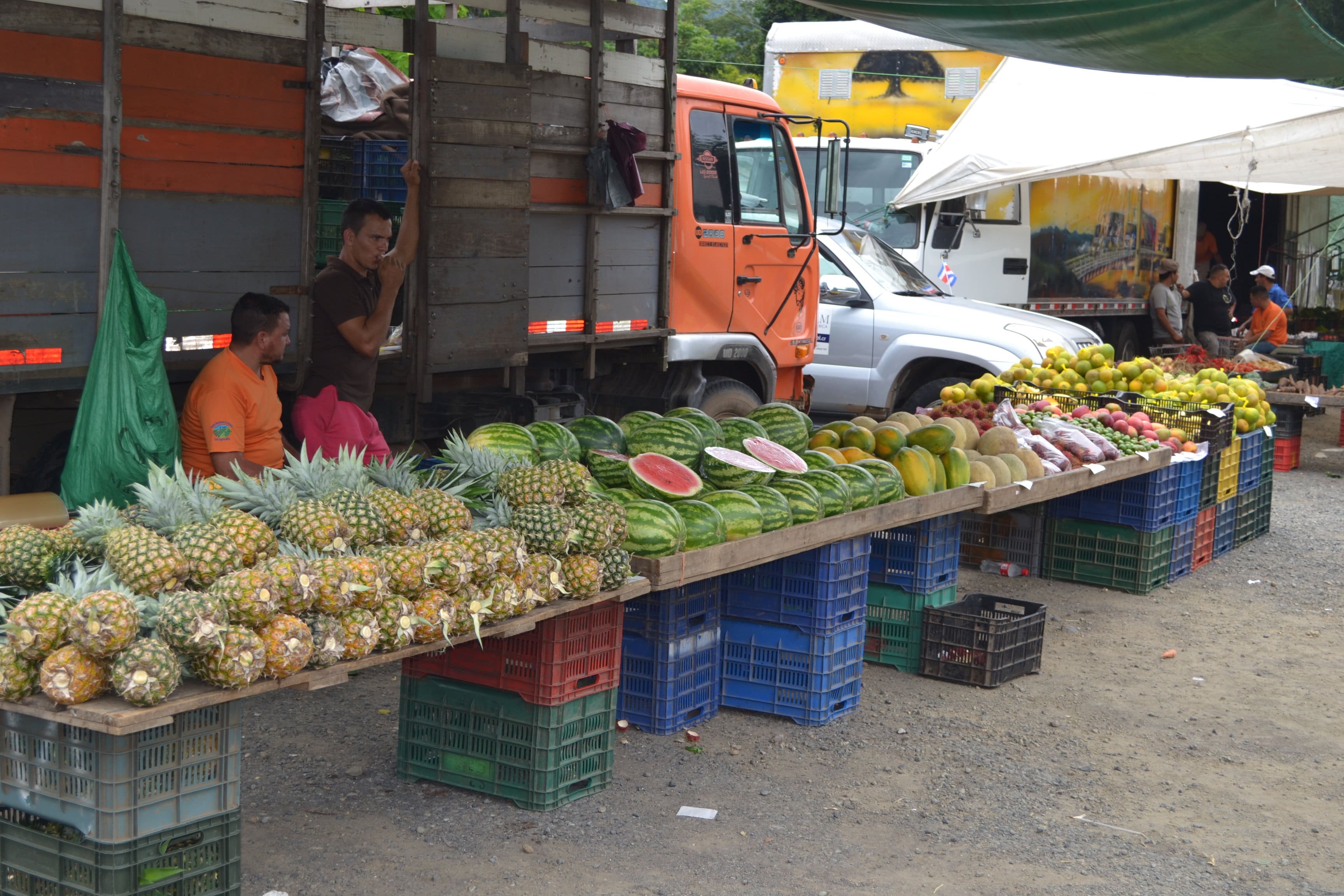 Friday Farmer's Market in Jaco
Posted by Alex Wardlaw in Food, Traveling
14
Sep
2015
It's my fourth day at Room2Board and I've hardly left the hostel – there have been so many amazing people to meet and things to learn!
Today, I decide to break the trend and start my day by venturing out to the local farmer's market. I wasn't disappointed.
Farmer's Market in Jaco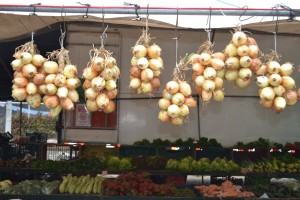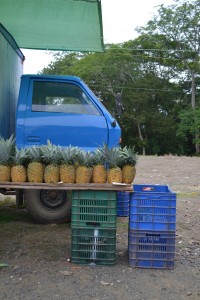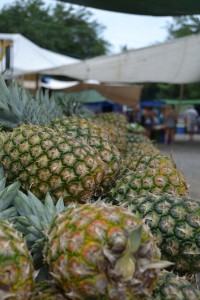 Under five minutes walk from the hostel, the market was vibrant and busy. Large tarps extended from trucks, shading baskets and crates over-flowing with the freshest looking fruits and vegetables. I've never seen so many pineapples in one place. Coconuts, watermelon, root vegetables, tomatoes. It was a culinary paradise! I rarely cook and I was itching to put together a shopping list and whip up a meal. Conor — another Room2Board volunteer — and I made a pact to come back next week to pick up ingredients for a staff meal. What a great way to put the Room2Board communal kitchen to use!
Simply put, it was mouthwatering.
Right away, I noticed crates at almost every vendor, full to the brim with the strangest looking fruit I have ever seen. Blotchy red and yellow spheres the size of walnuts, covered with twisty spikes. Nature's version of a spiked rubber stress ball. A vendor saw me eyeing them and had one half peeled and in my hand before I could say anything. "Lychee!" he said, looking at me expectantly. Just like lychee, which I have always avoided, the inside of the fruit was white, translucent and slimy. I hesitatingly bit off a bit. What a surprise! The taste went from soft and sweet to incredibly sour and tangy. I devoured the rest. A bit of research back at Room2Board revealed that the fruit is the Costa Rican Rambutan, locally known as the Mamon Chino, a close relative to lychee and other edible tropical fruits. I can't recommend rambutan enough – just watch out for the pit.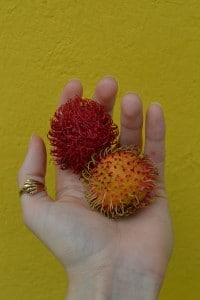 Rambutan = all-natural tropical candy.
In addition to fruits and vegetables and rambutan, the market boasted several clothes vendors, work by local artisans, natural remedies, local honey (great for allergies), and a vendor selling pieces of Himalayan sea salt the size of my fist. There was even a stand of beautiful fruit tarts, cookies and whoopie pies run by a Mennonite family. An unexpected sight for me at a Costa Rican market but a familiar one to a girl who was born in Ohio! Apparently, there is a large Mennonite community in Costa Rica.
The market was a great way to connect with the Jaco community. Conor and I struck up several conversations. Including with a little girl who wanted to practice her english. Everyone was incredibly friendly. And generous, too. I went back to my rambutan vendor to buy two for the walk home. He insisted I take them free of charge.
I'm looking forward to next Friday.
Getting there: Walk out past the surfboard lockers and take a left onto the road running by the hostel. Keep going across a little bridge. Keep an eye out for cars, it's a tight squeeze! After the bridge, head to your right and you'll walk right into the market. You can't miss it!
Hours: Every Friday, 6 am to 2 pm.  Get there on the early side to catch all the vendors – some of them start to pack up by noon.
Bonus: The market is cheap! Only 500 colones for 10 bananas – that's about $1.