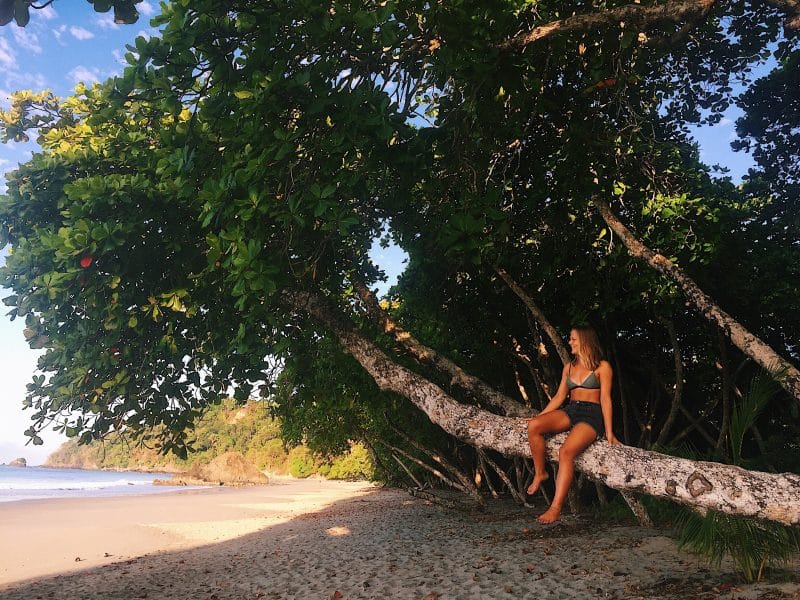 Jaco to Manuel Antonio
Posted by Kallie Stork in Jaco, Traveling
30
Jan
2019
One of the most common day trips is from Jaco to Manuel Antonio. From Jaco you take the Jaco to Quepos bus which is green and takes about an hour and a half. There are 12 buses a day that go two and from Quepos. Here are the departing times: 6, 6:30, 8:30, 10:30 am and 12, 12:30, 2, 2:30, 4, 5:30, 6, and 7 pm. I have gone twice and both times I have caught the 8:30am bus. The easiest place to catch the bus is across the street from MasXMenos, the big grocery store in town. As it can be a long wait I like to grab a pastry and juice from the bakery just down the street called Pachi's Pan. If you keep an eye out for the bus you can enjoy your food seated at the café and they even have Wi-Fi. Once you arrive in Quepos you will get on a small shuttle bus to Manuel Antonio. The price is 335 colones and takes 20 minutes. There are usually two buses going back and forth so you will not wait long.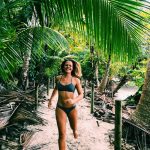 The main attraction in going from Jaco to Manuel Antonio is the National Park. You will stay on the bus until you come to a roundabout at the very end after the beach. On the last stop after going around the roundabout is where you get off. From there is a trail with a sign directing you to the park.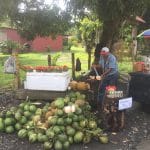 There are a lot of local tourist shops here and when you leave the park make sure to by a cold coconut. You will have to buy your tickets which are $16 before entering. If the park reaches max capacity it will close and you will have to wait in line to enter. Do not bring cigarettes, drones, chips or nuts, or speakers. You can bring an individually wrapped sandwich. The guards will go through your bags before entering so nothing will pass through. Keep an eye on your bags if you go swimming as monkeys and raccoons will come through and try to steal your things.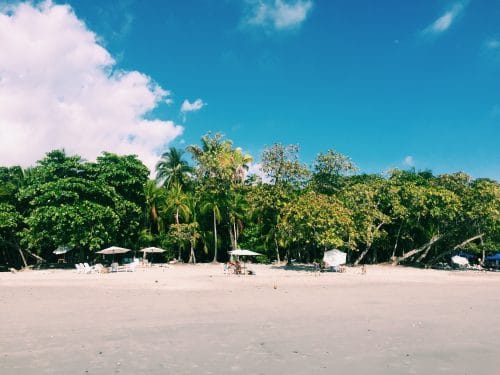 Make sure to enjoy the hikes and further beaches that are much quieter. Leave only footprints and pick up any trash you see. This area is filled with wildlife and you are just visiting. Try to keep the habitat as natural as possible.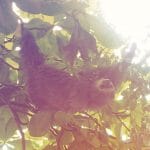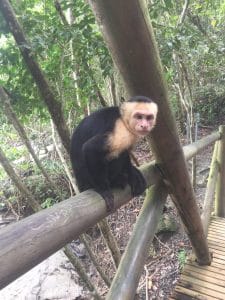 If you are looking for a quiet beach day trip from Jaco to Manual Antonio get off the bus near the Buena Vista Hotel bus stop. This area isn't as packed or touristy as the main beach. Walk to the beach and find a palm tree to lie under. Take a walk down to the right hand side of the beach and explore at low-tide. If you are hungry go to the hotel for lunch. They have bathrooms and Wi-Fi and it is a great place to go in the evening for a drink. They have happy hour and you can get two drinks for the price of one. There are tables under the palm trees, fairy lights strung through the trees, and the atmosphere is relaxed.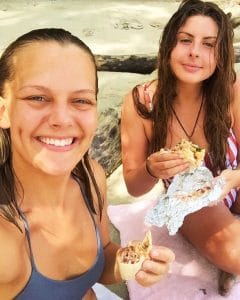 Another choice for food down by the main beach is Baldi's Fresh. Right across from the beach and they serve the best nachos and smoothies. Also check out Emillio's Cafe which is up the hill about 5 minutes by car. Emillio's is a resturant with a beautiful view and awesome food. I had a croissant sandwich with eggs, tomato, onion, avocado, and goat's cheese. The croissant was followed by a slice of peanut butter pie. They have ten or more desserts readily available in a display and they all look fantastic.
When you plan to return to Jaco you will catch the same shuttle back to Quepos. You again will have 12 options of bus times to choose from to get you back to Jaco. The afternoon times are 12:30, 2, 3, 4:30, and 6pm. If you end up staying the night and want to return in the morning the times are: 4:30, 4:35, 5:30, 6:30, 7:30, 9:30, and 11am.
I hope you enjoy your day trip from Jaco to Manuel Antonio!