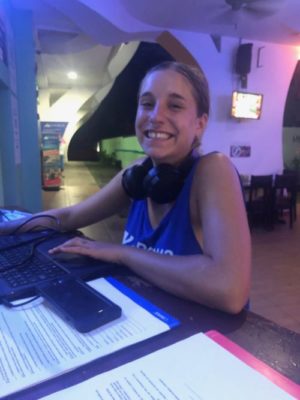 Things to do in Jaco!
Posted by Susan in Jaco
07
Oct
2019
Times flies when you are having fun.  It's hard to believe it has already been a month since I left my native and wonderful country Canada to try the Pura Vida experience in Jaco as a volunteer at Room2Board. The atmosphere is so nice and the people are so friendly here that you quickly get used to this pace of life. However, it may happen that on some occasions you get a little homesick, especially on a grey day during raining season, which is perfectly normal for any human being. So here are some things to do in Jaco to make you feel at home.
Everyone has to find his own remedy for those short periods of time. For me, I found the perfect solution, I try to find places that remind me of home. A couple of years  ago I moved from a small town in Quebec to the big city of Montreal!!! I had to adapt quickly.
Every morning in Montreal, I woke up and went for a walk for an hour or so to discover the city and what Montreal it had to offer. I have tried to continue this in Jaco. Almost every day, I either take a bicycle (which are available and free for volunteers) or I walk for an hour or two in Jaco and its surroundings. I always discover small places that remind me of home.
Among these places, there's the Bohio café. The place is inconspicuous on Jaco's main street. This roaster is both a coffee shop and a store. On site, there are several cold and hot beverages and even some pastries or homemade granola. For me, it's always exciting to see a barista at work. It is an art! You can also buy coffee as a gift or souvenir. It's also a great spot to buy souvenirs like dishes made of coconuts, stylish sweaters with their company logo on it and other fun items. I like to go there in the morning to drink a nice cappuccino and write in my travel journal. It place reminds me of my long hours Ispent studying in Montreal cafés
A few steps from Bohio, The Beer House is my discovery of the month. Our boss, Brian brought us there when we were saying farewell to a volunteer departing a few days ago. The pub is small which makes it so cozy and warm. Daniel, the host, is more than friendly. He shares with us his passion for micro brewing. He is always anxious to let us try his various products and sharing his knowledge with his customers. Moreover, there are about fifteen different types of beer. There's some for all taste! The Canadian owner even made an arrangement with the neighbouring pizzeria. So you can enjoy a slice of pizza while trying the new beer of the month. Perfect cure for a gray evening!!
Finally, since I moved to the big city of Montreal, I've been running my errands while walking the city. That's how I discover many local businesses. Fruit stores are always my favorite places to go. So you can imagine the joy of discovering this little fruit jewel right next to Room2Board! This shop is not available on the internet and you can't find it on a map.  But it is located next to the Bamboo Hotel. For farmer market lovers, this is the perfect spot. you can find the same varieties of fruits and vegetables that are available in bigger supermarkets but at more reasonable prices and the fruit is so fresh and good.
Every person has to find way of dealing with their blue days. For me it is finding things to do in Jaco that make me feel at home. For example my roommate, Alli volunteers at the church every Sunday morning. That does the job for her. On my part, I hunt places that remind me of home. That works perfectly for me even on the grayest day of all!
PS – It's not gray too often during rainy season – usually just a few hours/day.
Blog contributed by Frede.  She is from Montreal, CA.  Her native language is French. She loves the Room2Board tank tops and has one in every color.  Favorite food is the burrito from the Taco Joint.  She runs up Miro Mountain daily and play Sims during the night.  She arrived at Room2Board in August and leaves in early November.  Frede hopes to come back this winter to Jaco and work.  Anyone hiring?