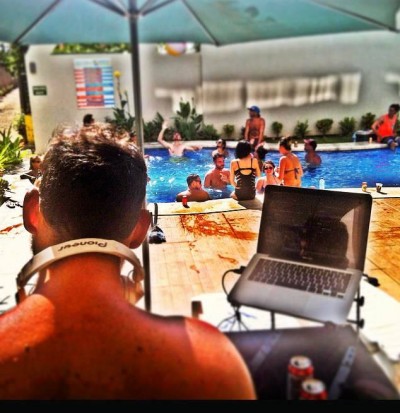 Party Time in Jaco
Posted by Susan in Party, Pura Vida, Traveling
15
Jan
2016
If it's a Saturday night in January, or any other month during high season chances are Pablo Nunez will be at Room2Board getting the party going.  You will definitely not be disappointed – DJ Spot as everyone calls him, gets R2B rocking and dancing.  When Spot is around it is party time in Jaco!
I recently had a chance to find out a little more about Pablo and ask him a few questions.
Where are you from?
Right here in Costa Rica!
How did you become a DJ?
I started playing drums when I was child (in the 90's) and I was playing with some bands in big shows here and in Mexico In 2010, I started mixing music and composing my own music, playing and being a DJ here in Costa Rica and around Europe.
When did you first start at Room2Board?
I started working at R2B in July 2014 when a friend told me he wanted me to play at his birthday party there. I talked with Brian, the owner and I told him that I  am a DJ and he said, " I need a DJ!", so we talked about it and here I am!
4. What do you like most about Room2Board?
I am an artist and a show man and I know at R2B everybody can express themselves and that brings freedom to our souls.  R2B is a feeling not just a hostel.
5. When you are not playing music, what do you like to do?
When I am not playing music,  I am definitely surfing! I have been surfing for about 12 years.   Music and surf is what I do to live,  but to survive I work for the government of Costa Rica as construction inspector.
6. Favorite activities in Jaco?
Surf, mixing music, eating at Chilli Guaros restaurant (at Room2Board), party and repeat!
Check out this great video of DJ Spot at Room2Board!  It is party time in Jaco!