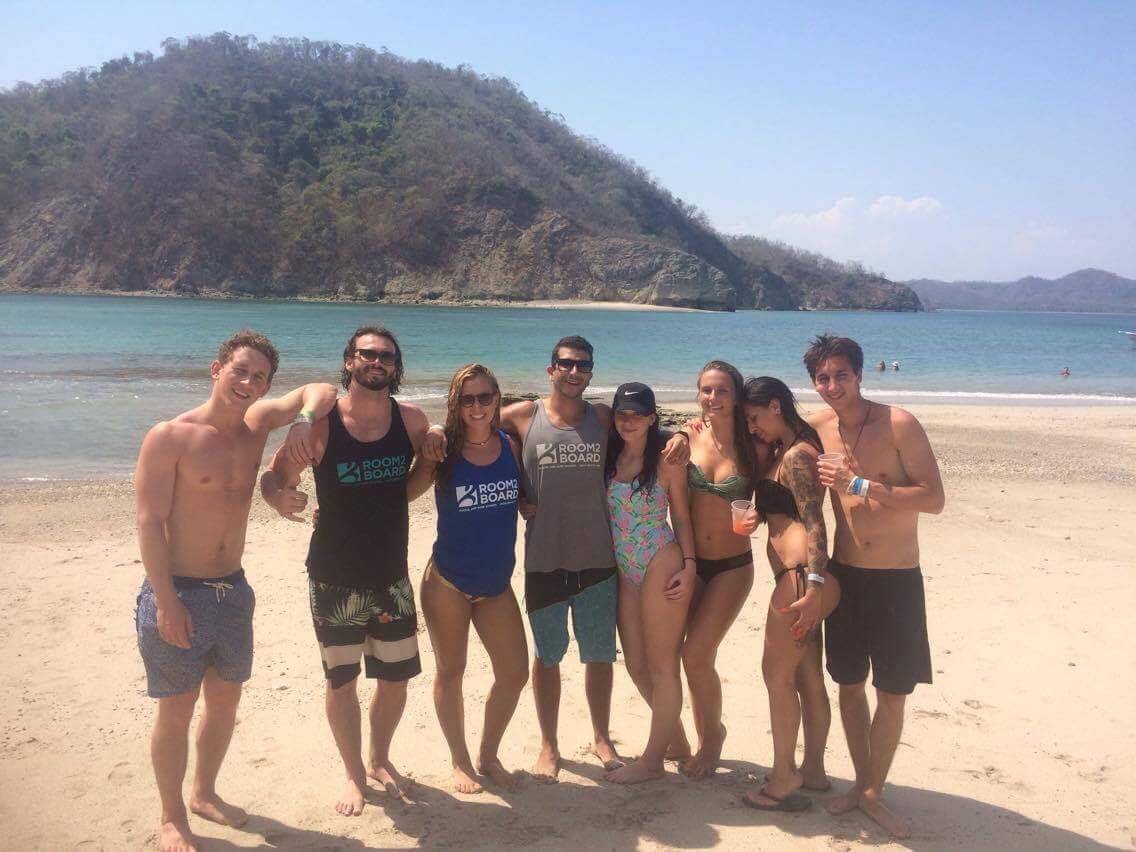 Tortuga Island Tour from Jaco
Posted by Chris Feloney in Jaco, Tours, Traveling
18
May
2017
The Tour
Costa Rica has given me the opportunity to experience so many cool adventures, however the Tourtuga Island tour from Jaco was one for the books! It is an action packed day filled with exciting activities such as snorkeling, subwing (pretty much you become a dolphin), a two hour gourmet beach lunch and then some group tubing. The boat can hold a maximum of 9 people including the boat captain who happened to be the spirit of our adventures. In this case I gathered up 8 seaworthy candidates staying at Room2Board, including myself and we signed up for the tour at the R2B tour shop.
The Adventure
7:00 AM: NICK WAKE UP! The guide is going to be here in 30 minutes. Good thing we put our things together the night before-  knowing Nick and myself particularly don't enjoy the early hours of the morning. Bathing suit, sunglasses, sun hat, sunscreen, GoPro, phone to play music on the boats badass bluetooth stereo, friends … CHECK! Ready to head out. The guide has everything else for us: water, food, beer, Perfect!
After a 10 minute taxi ride and a 45 minute boat cruise across the bay, we reach a small boat wreck off of an island with a large reef.  Our guide, Rob grabs us goggles, snorkels, and fins. We snorkel for the next hour or so. I loved it immediately, I look down and there's a treasure chest next to a wrecked boat. I have taken a diving course before, so I did a few preparation breaths and finned down to the boat, swim on through, open the treasure chest to see if it was my lucky day. Argh, nothing, someone needs to tell Rob to put treasure in the chest! Onward; we swim around the reef checking out hundreds of brightly colored fish and sea creatures. The octopus won the award –  coolest sighting!
One group photo later, we crawled back in the boat and set out to the next location to try out the subwing.
Being exposed to lots of water activities I was surprised I never heard of a subwing before. We have our own boat back home and we are always looking for new ways to have fun around the water. Rob hooks up two subwings so we can go out with a buddy. Who thought the day could get any better after seeing all the fish while snorkeling around.
The subwing proved us wrong. We all quickly became dolphins hanging on to this device none of us had ever seen before. Pull it to the right – you go right, pull it to the left – you go left, push down and holy crap -I'm diving down, down, down. Hard turn left – wow I just did a barrel roll!  Crazy, I can do six barrel rolls in a row, and now I'm trolling the bottom like a fish – I have complete control.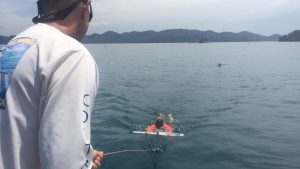 If you are not tired after all of that you are a champion. We took a short cruise over to the beautiful white sand beach of Isla Tortuga. We relaxed on the island for two hours refueling with a delicious traditional chicken or fish based Costa Rican lunch.
We swam around the corner to a completely secluded part of the beach. I pulled down my board shorts and attempted to tan my extremely white ass. After I realized that was a lost cause and I wanted to be able to walk for the rest of my trip we dove back in the water, swam around the corner and there's Rob, blowing up this massive cylindrical tube.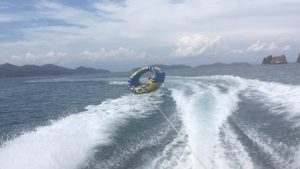 Four of us crawled in the tube and Rob dropped the hammer hard! Chatting with Rob all day had led up to his understanding of how much tubing we could really take. Now he's whipping us around like your drunk dad on the fourth of July (within reason). The girls are bouncing around holding on to us, were holding onto the tube fully gripped – whipping right, whipping left – he's not going to stop until we are absolutely FINISHED! Rob wouldn't actually put us in danger. He's better off if we live to tell the tale!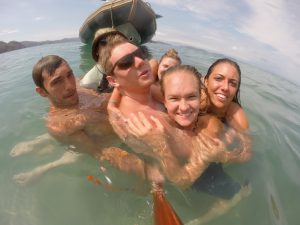 What a Day! The tubing supplied the most laughs … and grunts, the subwing took us to new heights of exploration, or depths if you are so technical, and the snorkeling proved to be more colorful than your kindergarten teacher. Taking the tour through Room2Board made it so easy. Once we hopped in the shuttle bus at the hostel everything else was in Rob's hands. All we had to worry about was what song to play next as we flew across the bay and of course apply the sunscreen. Reapply, reapply, reapply! I would recommend this Tortuga Island tour from Jaco to everyone! It was an absolute blast!