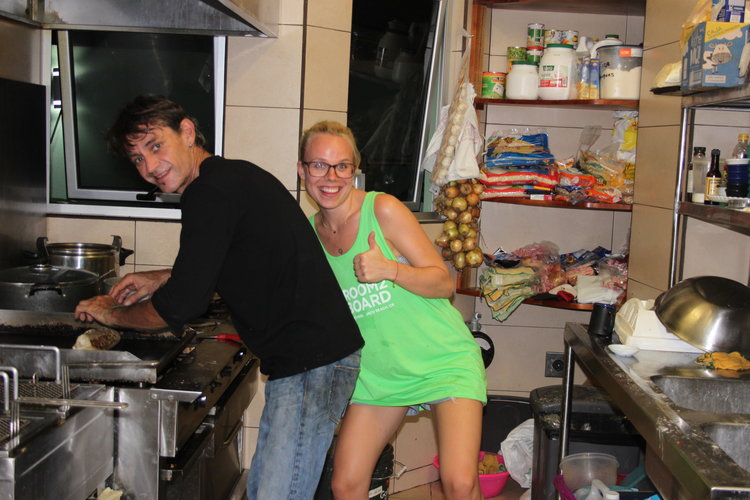 This is not your Typical Hostel Food!
Posted by Susan in Food and Beverages
21
Mar
2015
Fernando, Room2Board's chef  started working at Room2Board this past summer.  He has created a great menu for Room2Board, that not only includes typical Costa Rican food, but food from around the world.  We get rave reviews about his food all the time.  No one leaves hungry.  Even our staff eats most of their meals at the hostel because they enjoy his cooking so much.
Fernando is a native of Costa Rica, but his mom hails from Germany. He did his training at the University Latina, the largest private university in Costa Rica. His favorite cuisine to cook is mediterrean, because he says it's a great balance between healthy cooking and lot's of flavor.  Most will agree the cuisine at Room2Board is not your typical hostel food. Staff favorite meals include the falafel and pita plate (yes he makes his own pita bread), anything he cooks with fresh fish,  the shawarma plate, and his huge quesadillas.  Also don't be remiss and skip breakfast; the pancakes with bananas and the French toast are amazing.
Some recent quotes from trip advisor about Room2Board's food:
"A bar with excellent food"
"The kitchen makes amazing meals, their chicken and fish dinners I find are the best tasting dishes"
"The chef Fernando is the man!"
"And well the FOOD is amazing"
If Fernando is not in the kitchen, he is sure to be found hanging out with his family.  They come often to the hostel to enjoy his meals and see him in action.  Fernando describes his family as, "the best team you can imagine". Fernando's son,  Frederico is his biggest joy.  They can often be found playing in the surf on their boogie boards.
Room2Board Birthday Celebration
If you are lucky enough to be at Room2Board for your birthday, please let us know.  Fernando will make you his famous birthday cake.  I did get the recipe out of him and I tried to make it at home, but it just didn't taste as good.  So on my last trip to Room2Board I made it with him.  It was hard to get him to actually use measuring utensils, but here it is – with measurements as close as I could duplicate!
Birthday Cake Recipe
6 eggs
1  cup of sugar
1 1/2 cup of flour
1 T baking powder
2 T maple syrup
2 tsp vanilla
2 T amaretto
Put in a greased and floured pan and bake at 350 F (180 C) for 23 minutes until toothpick comes out dry
Frosting for Cake
2 1/2 sticks butter
1/2 cup of brown sugar
2 oz cold coffee
2 oz sweet chocolate melted
1/2 tsp vanilla
Beat all together till smooth.
Frosting for Center of Cake
1/2 stick butter melted
1 can sweetened condensed milk
Melt butter and add sweetened condensed milk.
Cook till caramelized – about 5-10 minutes
When cake is cool, cut in half.  On the bottom layer put the frosting for the center of the cake. Top with second half of cake and frost!
Pura Vida and Happy Eating!