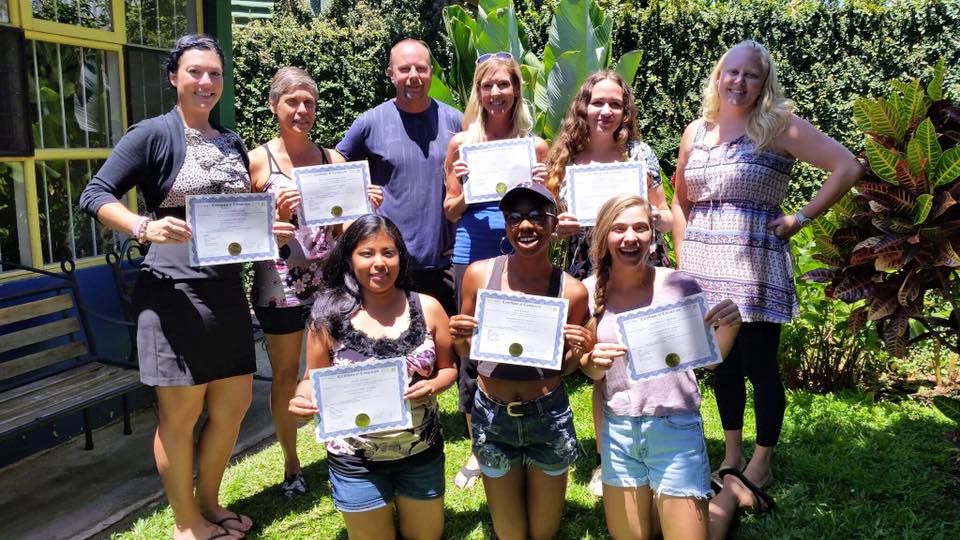 Teaching and Beachin' – TEFL Certification in Costa Rica
Posted by Susan in Traveling
24
Mar
2016
Jena just finished up her TEFL certificate in Costa Rica and was looking for something to do her last few months.  She read about Room2Board's work for stay program and the day after she finished her certificate she was working the reception desk at Room2Board.  You can read her entire blog here.
Fun fact about Jena: when she leaves Room2Board you can find her working with Chip 'n Dale at Walt Disney World in Florida!
It's hard to believe that I have already been in Costa Rica for almost 6 weeks now- but I guess it's like everyone always says, time really does fly. Now that I have decided to go and work for Disney again this summer, my time here is limited to two more months. Entering Costa Rica on a 90 day tourist visa, I'm just sneaking past a border run and leaving the country on my 89th day here.
My purpose for coming to Costa Rica was to get my TEFL certification, which I completed last Friday. With the paper in hand, it's easy to see I've gained so much more than just a certification. I've been surrounded this month by people who inspire me, who have allowed me to see a glimpse into their lives. What I've spent my time doing this month is learning. Learning things that I have been neglecting to see, things I care about, things that urge me to be a better person. Most importantly, I've learnt how much I value the beauty of spontaneity. Doing things you haven't expected on whim, lead to moments you'll remember forever. I haven't considered myself to be a spontaneous person, but lately all of the things I have been doing have been unplanned and unexpected. Near the end of my course, I thought I might be homeless. There's nothing wrong with planning, but there's nothing wrong with not planning either. I want to be spontaneous, I want to do something tomorrow I could have never thought possible yesterday. There is beauty in the unknown. There is excitement in the unplanned. Isolating the fear in "what could be" and treasuring the excitement makes all the difference between just living and being alive. Prior to coming here, learning had turned into something I no longer enjoyed and fear was part of my everyday thinking. Now, though, I think all of that is about to change.
My TEFL certification is a ticket to travel and work around the world with a purpose. It's one certificate that won't collect dust in the back of my closet. The course itself, brought me to individuals who are passionate and hungry to teach and learn. For four weeks, I spent almost every night inside the study room at my host families house lesson planning and finishing assignments. I ended up enjoying teaching a lot more than I thought I would. It's only been a week since I taught my last class of the course, and I actually miss doing it. Throughout the four weeks, I got to teach 6 classes and 1 private lesson all varying in age. Within the first few minutes of teaching a class, you can tell the atmosphere you're in, what the students need from you, and adjust your teaching style from there. Each class ended up being very different, although 1 class I got the opportunity to teach really changed the way I thought about things. There is a class at a school in Heredia full of scholarship recipients, moms from low income families who haven't gotten the same educational opportunities as we do in my country. Teaching them, I got to see how much effort they put into learning. They allowed themselves to be vulnerable in a way that could be really scary– someone standing in front of you spouting out words that make no sense. It was inspiring, seeing how empowering the process of learning can be, especially for women who haven't always gotten the chance. It really seemed to put privilege into perspective for me.
The course wasn't all business though, there were fun and games too. On our first weekend, we got Friday off so we could go and see parts of the country. Four of us a girls hopped in a car and headed off to a beach called Manuel Antonio. We called it the weekend of "firsts" and I got to see the Costa Rica I had been expecting from the Google Images section. On our first day, we went to a beautiful beach in the national park with bright blue water, huge iguanas, and monkeys searching for food. We didn't have a plan of where we were going to stay at night, but as two of us went door to door at hostels and hotels, a man came a knocked on our car window and offered us a room at his hotel for 60$ a night right next to the entrance of the national park. We snagged it. On the second day there, my friend and I went white water rafting, because both of us had been wanting to try it. At night time we got to see one of the most beautiful sunsets I have ever seen in my life, where the sun sat on top of the water just before it set. Of course, I had to take an obligatory handstand pic– because when do I not?
When Sunday hit, we figured the rocks on the water needed a visit so we rented snorkel gear and kayaks and started the paddle out. I learnt that things look a lot closer than they actually are, because it took an hour just to paddle out to them. We thought there would be fish along the rocks but when I jumped in with my goggles, there was nothing but water. We chalked it up to a fun kayaking adventure and ditched the snorkel idea. On the way back to the beach, my friend Nya had to do most of the work because I thought I was going to see my breakfast from that morning come back up. Sea sickness got me good for the first time in my life. On Sunday night we had to drive back home, and after getting stuck in traffic for two hours, we made it back to our houses. Monday was teaching time!
A few weekends later, my two amigas and I went to check out the nightlife in San Jose. From what I can remember it must have been pretty good because at 6 in the morning we left the club and bought a bus ticket to Jaco. We were determined to spend a day on the beach. After a two hour nap on the bus we were left standing by the ocean with sticky feet and warm beer in our hands. We went and bought bathing suits, and we spent hours jumping waves before we went a got new tattoos. We got so distracted doing that, and ended up missing our bus. The only way to get back to Heredia was to buy standing tickets home. I never thought I would have to stand on a bus for two hours straight, but at least it got us back to where we needed to be, because the next day we had to teach lessons none of us had even started planning for.
A little bit too soon came time to leave Heredia, but headed off for a new adventure. Nya and I both got volunteering positions at different hostels in Jaco, and Brandie headed back home for a little bit before she heads to the job she landed in Italy this summer. Our fingers are crossed that were all going to go and teach together again soon.
For the next two months, I am going to be volunteering at a hostel called Room2Board Hostel and Surf School. I got lucky and touched down somewhere really amazing. I have a top bunk in a dorm room with people who seem really cool, working 24 hours a week in exchange for a bed, breakfast, and I can use the surfboards to fall off of whenever I want (I still have yet to try though) . It's only been a week but so far so good! Right on the ocean, I can sit on the terrace and write my blog looking at blue water, hammocks and palm tress while I listen to waves hit the shore. It's gorgeous here — if anyone wants to come and visit I'm sure you would love it. 🙂 That's about it for my life right now. I'm hoping to teach some online classes while I'm here too, but if or when that happens I will keep you posted!
Oh, and one more thing I've learnt: hammocks are my new favourite thing.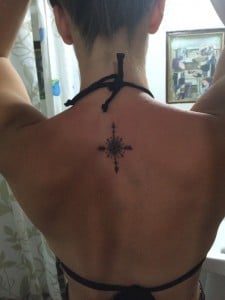 Cheers my friends! I hope you're all loving life.