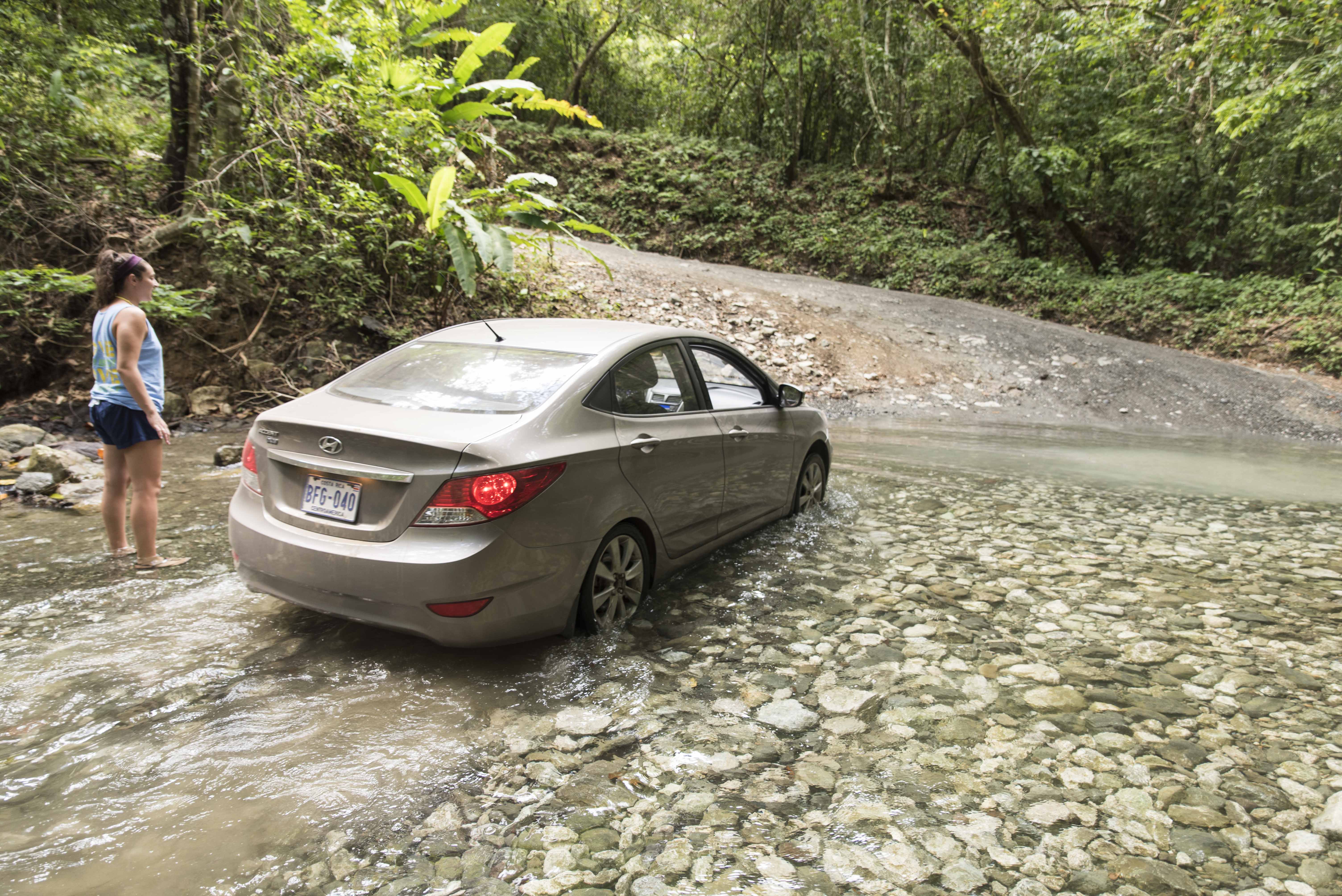 Weekend Road Trip: Costa Rica's Osa Peninsula and Corcovado National Park
Posted by Ken Klemens in Pura Vida, Tours
31
Jan
2016
Costa Rica's Osa Peninsula and Corcovado National Park
With two days off during the week I try to travel outside of the hostel and see what this beautiful country has to offer. This past week's trip took us southbound along the Pacific coast all the way down to Costa Rica's Osa Peninsula and Corcovado National Park. We went without a plan, but we had a car. Along the way we stopped at small waterfall and had our fill of cliff jumping and natural water sliding. We then took off and hit three totally different beaches: Dominical, Uvita and Ballena. After watching the sun go down at Playa Ballena with rocky islands jutting from the horizon, we continued our trip south. A small photo gallery from the trip is posted below if you want to see what we saw.
Once the sun goes down in Costa Rica, everything goes dark… well black, really. There aren't many street lights at all and yet we had about 90 km left to travel along super windy roads to Puerto Jimenez, our randomly selected destination for the night. It had just rained and the road was still hot from the sun, but as the air cooled the water began steaming off the road; so in the pitch black night the evaporation spouts looked like spirits haunting the road in our headlights. I am pretty certain we had a ghost in the car.
We arrived in Puerto Jimenez around 10pm and were confronted by a wall of hostel signs and restaurant advertisements. "Hostel $15 with with kayak rentals." Daniella was hesitant about this one… so we went. Driving down an admittedly, very scary dirt road away from the small town and into what we assumed was deep jungle, we ended up in a clearing at the very quaint "Hostel Corco Vado." We were able to get a private room with three beds which was perfect. The owner was super nice and being that we were the only guests currently staying there she let us use the kayaks for free in the morning. We went to eat dinner at some bar in town and all ordered a different pasta… I'll be honest, as a country Costa Rica does a lot of things exceptionally well, but pasta is not one of them, I'm sorry.  We did musical plates and switched every 10 bites or so which made it interesting, Bolognese style, Carbornara, and the best of the worst, Pesto Chicken. We laughed the entire time both at our meals and out of delirium, I don't think I'll ever forget this meal. The bolognese tasted like gummy worms lets leave it at that.
Since we had the kayaks for free the next morning we decided to go to sleep early to wake up at 5am and row to the middle of Drake bay. We watched the sun rise over the ocean and it was breathtaking, dolphins swimming next to us, Macaws flying over, not to mention we got some exercise in, it was awesome. Waking up early was well worth it since we had the full day ahead of us. Having a car was crucial for this trip. We were able to travel freely to whatever locations we wanted and do our own tour of the Osa Peninsula. We traveled about 45 minutes on a dirt road (which on the map was marked as a highway) towards Corcovado National Park which we found out the hard way you needed a hired guide to get into. We got as close as possible anyway and headed towards an isolated beach we found on a map at the southern tip of the peninsula called Matapalo.
The drive itself was probably the most fun part of the trip. After pulling some "off-roading" stunts through rivers and getting tossed around like rag dolls in our sweet Hyundai sedan, we made it to Matapalo. There were trees and fruit and flowers everywhere, it was a scene rightout of "The Beach" with Leonardo DiCaprio, I'm telling you. We were the only people there, small waves peeling from one end of the beach all the way to the other, slicing up Guanabana in the shade of a palm tree. After soaking this up for a couple hours we began the trek back. We stopped a few times to take pictures, once of some Spider Monkeys (7 to be exact) that were climbing on the limbs right above the road and posing for us.
What did we learn from this trip to Costa Rica's Osa Peninsula and Corcovado National Park? Make a reservation for a guide next time BEFORE going to Corcovado. Renting a car in Costa Rica is TOTALLY worth the money and convenience. BUT if possible, get a 4 wheel drive; because with a sedan you will be holding your breath, white-knuckle grip on the wheel the whole way hoping you don't lose a muffler. Going on spontaneous trips is ALWAYS a good idea,and turning your car back in to the rental place shouldn't be a stressful as we made it. But long as the car is in one piece, you should be good to go. Oh, and ghosts are probably real.
Costa Rica's Osa Peninsula and Corcovado National Park