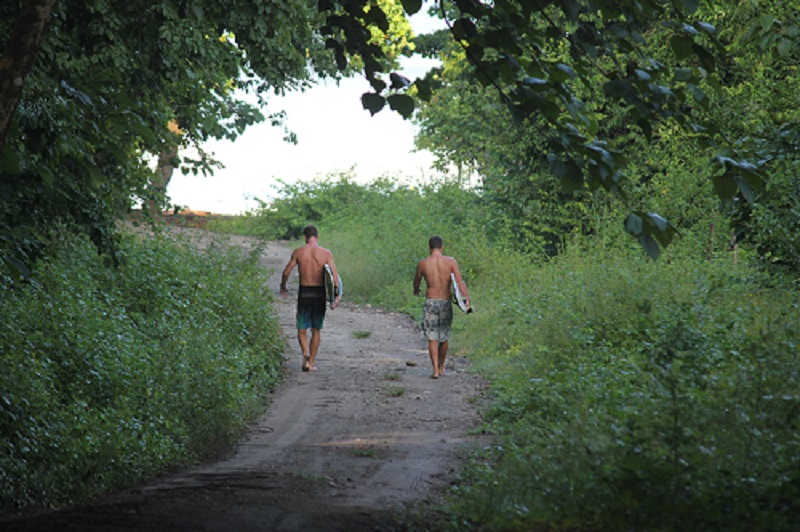 Mal Pais & Santa Teresa: A Discovered Paradise
Posted by Kevin Baranello in Surfing, Tours, Traveling
15
Sep
2014
I recently found my new favorite spot in Costa Rica, although I find myself saying that often. I'd been staring off the coast of Jaco for months now at the Nicoya Peninsula on the horizon. So I finally got a couple of days off, and decided to make the trip. There are two ways to get there, you can go north and around the Gulf of Nicoya, or you can bee-line it directly across from Room2Board by taxi boat, thanks to Zuma Tours.
So taxi boat it is…It was unbelievable the entire way. It felt like I was a part of a scene in a movie (Jurassic Park is usually the first film that comes to mind). You can see on either side the dense jungle and mountainous terrain that makes up the Costa Rican geography, a truly awesome site. It's not uncommon to see whales, dolphins, turtles, and manta rays along the way either.
Finally across to the port town Montezuma. We didn't spend much time here because we were heading to opposite side of the point, but it was a really cool little jungle town that would be a great spot to hide out for a few weeks or forever, depending on whether you were visiting, working, or actually hiding from something.
We continued on bumpy (to say the least) dirt roads across the way to Mal Pais. We stayed at a place called Mal Pais Surf Camp. If you love to game, this is THE spot. We're talking ping pong, billiards, indo boards, giant outdoor pool that was in great shape. A recreational paradise. Not to mention that there was a cool path leading straight to the beach across the road (shown in cover photo). This is about as beach front as you can get in Mal Pais, so we were livin' in style. Highly recommend this place for travelers, although there are some other really great options in Santa Teresa as well.
The beaches here are simply amazing. Miles and miles of rocky coastline with glistening palms and white sand beaches, with perfect waves for all types of surfers. It was clearly already a discovered paradise, but certainly not overdeveloped either. There are trendy new restaurants and shops opened by foreigners,  but the region keeps its rustic feel of tropical isolation with its dirt roads and jungle landscape. While your there, check out Jobbies Surf Shop and talk to Bubba, he'll tell you everything you need to know, and introduce you to their ridiculously named dogs.
Photo Credit: Nana Sylaprany, thanks for the great shots.